Sol-Ark is a Veteran owned solar and energy storage company based in Texas, USA with the mission of helping consumers be less dependent on vulnerable grid power is a manner that is affordable and easy to implement.
Sol-Ark was formed by Veterans and defense engineers with backgrounds in solar, electrical, mechanical and nuclear engineering. The team designs the company's own electronics and prides itself on being a disruptor in the solar plus storage market.
The solar hybrid inverter/charger is award winning technology known and applauded in the industry for its flexibility, efficiency and power delivery.
For more information, see sol-ark.com

Sunamp is the world's market leader in thermal energy storage solutions for homes, businesses and communities. Sunamp's unrivalled super-compact Heat Battery technology has been intelligently designed to provide a clean, efficient and cost-effective thermal energy storage solution.
Working with everything from gas boilers to solar and heat pumps, Sunamp Heat Batteries deliver cascades of hot water and highly responsive space heating with superb efficiency and proven savings of up to 75% on utility bills. This outstanding technology comes at an accessible price and
offers limitless scalability for residential, commercial or industrial projects.
For more information, see sunamp.com

Frontier Power Products specializes in engines and power generation equipment fueled by diesel, gaseous fuels or gasoline. Founded in 1983 in Delta, BC, Canada, Frontier's focus has always been to provide the best solutions for the most demanding conditions, whether they be in extreme cold or hot climates, at sea level or high in the mountains, and in some of the most remote locations on earth. Frontier customizes engines and generator sets to meet site conditions. Today, Frontier Power Products are in demand around the globe.
For more information, see frontierpower.com
EJ Bowman is a worldwide manufacturer of Heat Exchangers and Oil Coolers used for industrial and commercial applications. Originally specializing in marine cooling solutions, Bowman's product lineup also offers exceptionally reliable heat exchangers for land-based duties including hydraulic oil systems, units for co-generation / combined heat and power (CHP), waste heat recovery applications, and oil coolers for mining equipment to name a few.
For more information, see ejbowman.co.uk

Solvest Inc. is a solar energy company based in northern Canada that specializes in remote energy generation. They provide service to a wide range of clients, designing custom solar solutions that are tailored to accommodate each client's needs. Solvest's extensive expertise ensures a properly configured and fully functional solar energy system.
Originally focused solely on residential solar installations, Solvest now provides systems to all industries and individuals. Operations include energy storage solutions, research, consultations, and even northern food security with their unique CropBox product.
As a partner of SSi Energy, Solvest's solar solutions are integrated into SSi's community energy projects where
required. As well, Solvest is a reseller of the supercapacitor electrical storage batteries distributed in Canada by SSi Energy.
For more information, see solvest.ca
Download the company profile

Thermalfrost is a pioneer in the field of thermally activated cooling. Its thermal chiller has demonstrated unparalleled performance in harnessing low-grade heat to provide air-conditioning, refrigeration and freezing.
Cooling represents 20% of the world's energy consumption. Thermalfrost is actively developing innovative products to meet the demands of this marketplace.
SSi Energy is pleased to include Thermalfrost as an industry partner, and is working with them to develop cooling and
chilling solutions for facilities such as arenas and meat lockers in remote communities, most of which rely on diesel-generated power plants.
For more information, see thermalfrost.ca

Established over 50 years ago in Fort Providence, NT, the Snowshoe Inn is an exemplary model of northern sustainability, innovation and prosperity. Originating as a small crafts shop in 1965, the Snowshoe Inn has become the community's largest independent employer with a 35-room motel, full service restaurant, bar, commercial rental facilities that include a general store, training centre, homes for local workers, and office space, bulk fuel business, trucking and heavy equipment operation, and an off-grid heat and power plant.
With local infrastructure, equipment, expertise and financial resources, Snowshoe is the ideal partner to help develop an
effective and sustainable model for remote community energy solutions.
For more information, see snowshoeinn.ca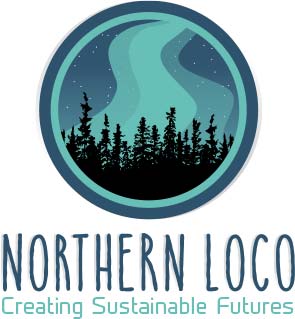 Northern Loco is an indigenous company based in Fort Providence, NT, whose mission is to create sustainable futures for Northern communities through the development of innovative solutions that utilize new technologies and are guided by indigenous knowledge, traditional practices and ways of being.
Central to Northern Loco's mandate is the belief that sustainable communities are:
Healthy, with mentally and physically resilient and strong individuals;
Vibrant, with a diverse economy and a celebrated culture;
Prosperous, with economic opportunities and ongoing development;
Environmentally Sustainable, maximizing the use of green energy and clean technologies.
For more information, see northernloco.ca